From: The Record, February 28, 1988
Teaneck's Aging Sentinel
This is another in a series of editorial on historic, unusual, exotic, beautiful, or just plain interesting buildings and places in North Jersey.
The Teaneck Armory stands silently in Tudor splendor just off Teaneck Road, an aging sentinel of times past.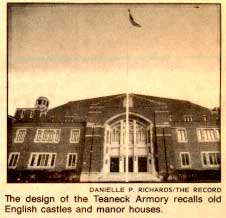 The New Deal project was built in 1938 on 13 acres; part of the money came from the Works Progress Administration. It was designed to house the 104th Engineers Battalion National Guard, which saw action in the Alsace during World War I and later helped create rescue trails for the Palisades Interstate Park Commission.
Over the years, the armory has snared bits of history, playing a role as a public arena. It opened with a dog show. Midget-car rallies were held there. Chubby Checker and Mitch Miller sang there. And a host of political candidates, among them John F. Kennedy and Barry Goldwater, stumped there.
But in the late Sixties, the building was declared unsafe because of inadequate fire exits and was closed to public events. Now, it's strictly used by the National Guard, its role revealed by the numerous Army vehicles parked out back under tarpaulins.
Time has worn away a lot the design, a fine example of what could be called "Tudor Eclectic." It relies on various architectural elements from the manor houses and castles of 16th century England. Basically, it's a collection of several buildings unified in a continuous design of standard red brick. Foremost among those mini-buildings is the long barrel-vaulted drill floor, which seated 5,000 for basketball games and 12,000 for speeches.
The armory's most dramatic elements - a series of battlements that fringed the two front towers - have been removed, apparently the victim of recent repairs. But the towers at either end are still evident and dramatic. They give off a castle feel, thanks to the long, narrow princess windows. And on the north end of the building, a wonderful, albeit truncated, turret rises, complete with modern vents worked into the design.
The front supports the look and feel of old England; groups of casement windows flank the entrance, and decorative sandstone trims the windows and the base of the building. The strongest element, however, is the main entrance, complete with a flattened Tudor arch and three bays of thick, double doors, reminiscent of an old monastery.
Back to Teaneck Armory Home Page